Glass Option – Automatic
Accessory to be inserted in book cradle 30 / 50.
Allows to automatically press the book to flatten the pages to be scanned. This option is particularly useful when scanning books with wavy pages, remove page curvature, avoid the reflections from glossy paper.

Glass remains horizontal anytime. Operator may also scan with glass left up.
Size of glass : 2xA2 = A1
Maximum book size : 2xA2
Glass lifting : automatic, assisted by footswitch
Glass pressure : up to 15 kg
Stable positions : up or down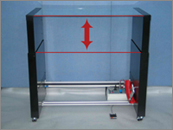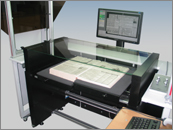 Glass Option – Manual
Accessory to be fixed on I2S SupraScan scanner.
Allows to manually press the book to flatten the pages to be scanned. This option is particularly useful when scanning books with pages that are not flat or that pop-up spontaneously
Size of glass : 2xA3+
Maximum book size : 2xA3
Height of glass plane : adjustable at +/- 2.5 cm (1 in)
Glass lifting : manual, assisted by gas springs
Glass pressure : up to 3 kg
Stable positions : 0°, 35°, 70°